The Miami International Organ Competition 2012
The Miami International Organ Competition is a bi-annual competition, sponsored by Fratelli Ruffatti and the Church of the Epiphany, with the intention of encouraging and recognizing talented young organists under the age of 30

.
The final round of the 2012 Miami Competition was played to a near-capacity crowd on Friday evening, March 2nd. Enthusiastic applause rang through the sanctuary at Church of the Epiphany in Miami as the contestants put the three-manual, 61-rank Ruffatti organ through its paces. Finalists Anne Lam, Paweł Wróbel, and Weicheng Zhao each played a 25-minute program. Runner-up for the competition was Dexter Kennedy (USA), with honorable mentions going to Camille Bloch (France), Annette Fabriz (Germany), and Brian Mathias (USA). This year, we had more than fifty applicants from seventeen different countries around the world. Judges for the preliminary round were Robert Bates, University of Houston; Cristina García Banegas, University Music School of Uruguay; and Hans Fagius, Royal Danish Academy of Music. Judging the final round were Dr. Kimberly Marshall, Professor of Organ and Director of the Arizona State University School of Music; Stefan Engels, Professor of the University of Music and Theatre "F. Mendelssohn-Bartholdy" in Leipzig; and Luciano Magnanini, Professor of Bassoon at the University of Miami Frost School of Music.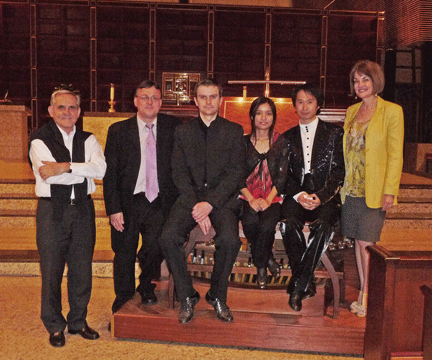 Weicheng Zhao,

winner of the First Prize and the Audience Prize,

was born in Tianjin, China. Among numerous scholarships and awards, he received the prestigious People's Government Scholarship in 2007. Out of 20 million college, university, and conservatory students, Mr. Zhao was one of 30 students chosen to receive the Nomination Prize for Student of the Year. That same year, Mr. Zhao became the first Chinese in history to win the 43rd Yamaha International Electone Organ Competition in Tokyo, Japan, which is recognized as the most significant competition of its kind in the world. After receiving his Bachelor of Music Degree in 2008, he was appointed a full-time faculty member of the Electone Organ at the Tianjin Conservatory of Music. In 2009, Mr. Zhao took a leave of absence to pursue study of the pipe organ with Cherry Rhodes at the University of Southern California Thornton School of Music. One year later, he took both Second Prize and Audience Prize at the Mader National Organ-Playing Competition in Claremont, California. Mr. Zhao has completed

the Graduate Certificate program

at USC and is currently enrolled in the university's Master of Music degree program. He is organist at St. Bede the Venerable Catholic Church, La Cañada, California.

Vivace (Trio Sonata II), BWV 526 • J. S. Bach (1685-1750)
Young Girl Carrying Water on a Shoulder Pole (trans. Weicheng Zhao) • Yuankai Bao (b. 1944)
Meditation on Salve, Festa Dies (Hail Thee, Festival Day) • Fr. Joseph Walter (b. 1956)
Variations sur un Noël, Op. 20 • Marcel Dupré (1886-1971)
| | | |
| --- | --- | --- |
| Second Prize went to Anne Lam, a doctoral student in Organ Performance and the Sacred Music Diploma at the Eastman School of Music, New York, studying with David Higgs. Ms. Lam began her organ studies with Dr. Siu-Ling Chiu & Ms. Kin-Yu Wong at the Chinese University of Hong Kong where she was appointed Organist at the University Chapel. She holds a Licentiate in Organ Performance with distinction from the Trinity College of Music, London, and is prize winner of the Hong Kong Schools Music Festival Competition. Ms. Lam is a recipient of numerous scholarships, including the Ann Anway Scholarship and a full tuition scholarship awarded by the Hong Kong Jockey Club Music and Dance Fund. Recently, she was named semi-finalist for the 2012 National Young Artists Competition in Organ Performance. Her improvisations have been published in the Eastman Organ Book and her solo performances have been aired on RTHK Radio 4 in Hong Kong. Ms. Lam is Director of Music & Organist at St. Luke's Episcopal Church in Fairport, NY. Her other interests include early liturgical music, harpsichord, continuo playing and cooking rather complicated recipes. | | |
Fantasie in G Minor • Johann Gottfried Müthel (1728-1788)
Vivace (Trio Sonata VI), BWV 530 • J. S. Bach (1685-1750)
Attende Domine (12 Chorale Preludes on Gregorian Themes, Op. 8) • Jeanne Demessieux (1921-1968)
Prelude and Fugue in B Major, Op.7/1 • Marcel Dupré (1886-1971)
| | | |
| --- | --- | --- |
| | | Paweł Wróbel claimed Third Prize in the competition. He studied at the Frederic Chopin Academy of Music in Warsaw, Poland, at the Hochschule fü̈r Musik in Stuttgart, Germany, and currently at the Universität fü̈r Musik in Graz, Austria with Gunther Rost. He is also preparing for PhD exams at the Paderewski Academy of Music in Poznań, Poland. Among other awards, Mr. Wróbel received Third Prize in the Nowowiejski Organ Competition, and won Third Prize in the Sweelinck Organ Competition in Gdańsk, as well as a special prize for the youngest finalist of the competition. In 2007, he received a scholarship from the Keimyung Research Foundation at the University of Seoul, Korea. Mr. Wróbel has participated in many sessions and master courses in organ playing, conducted by the most distinguished specialists, including: Ludger Lohmann, Gerhard Weinberger, Wolfgang Zerer, Martin Sander, and Christoph Krummacher. His great interest in symphonic and piano music was an inspiration to transcribe piano and orchestra pieces, including the Liszt Piano Sonata in h-moll, The Rite of Spring by Igor Strawiński, and the Fantasia in c-moll by Mozart. His hobbies include philosophy, psychology, books of Agatha Christie, and swimming. |
Toccata prima (Apparatus musico-organisticus) • Georg Muffat (1653-1704)
Choral "Lobt Gott, ihr Christen allzugleich", BWV 732 • J. S. Bach (1685-1750)
Orpheus (Symphonic Poem No. 4), S. 98 • Franz Liszt (1811-1886)
Offrande et Alleluia final (Livre du Saint Sacrament) • Olivier Messiaen (1908-1992)
Visit us on Facebook to see more photographs.
E-mail to:
organs@ruffatti.com
© 1999, 2012 Famiglia Artigiana Fratelli Ruffatti. All rights reserved.